Sub City, 2019
Photographic printing on steel with cement frame, 38 × 100 cm / 15 × 39 in, unique piece
© Florian Pugnaire & David Raffini / Courtesy Ceysson & Bénétière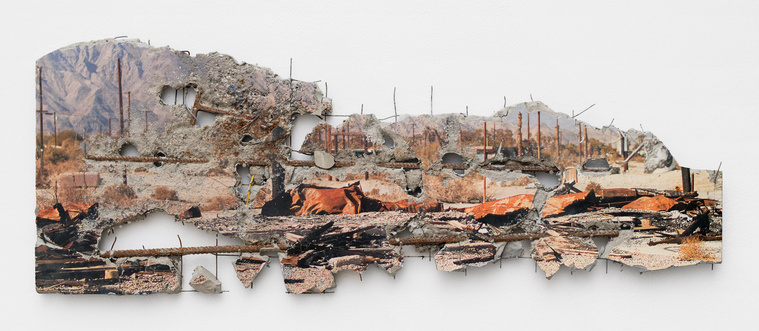 Born in Nice and Bastia (France) in 1980 and 1982.
Live and work in Brussels, Belgium.
Fahrenheit 134v
Since 2006, in parallel with an individual practice, Florian Pugnaire and David Raffini have been pursuing a collaborative work around the issues of the recycling of the industrial object towards the status of a work of art, until its decomposition in space time. Here is the information: Fahrenheit 134. The highest temperature ever reached on the surface of the planet nearly a century ago, in the Death Valley (56,7°C). On a desolated urban background, with sadly magnificent sunsets and landscapes dried out by a scorching heat, the story builds around the truths and legends related to the territories visited by the protagonist.

The debris thus collected gave life to a sculpture, which stands like a stele in the exhibition space. A memorial made of rubble and dust, fragments of history captured in stone. At the same time, an archeology of the future is shown through photographs. Shots representing a lost world, precisely defined but destructured due to the erosion of their medium.
Images of modern ruins become shadows of themselves through the destruction of their constitutive materials. Between fiction and archive, Florian Pugnaire and David Raffini create a hybrid form of storytelling through movie, installation works and photography.
Florian Pugnaire and David Raffini met during their studies at Villa Arson, Nice, where they graduated in 2007; they carried on studying together at the Freynoy National Studio of Contemporary Arts in Tourcoing, France. The two artists are united by the same central research in their creative work: to render visible the processes in art, in particular mutations of everyday objects into art. Laureates of the Ricard Prize in 2015, their work has been exhibited in a range of solo and group shows such as Le Portique in Le Havre (2018), Le Jardin des Tuileries (FIAC Hors les Murs, 2017) and Le Palais de Tokyo (2017).
Ceysson & Bénétière
Founded in Saint-.tienne in 2006, the Ceysson & B.n.ti.re gallery has expanded its locations in Luxembourg, Paris then New York and Saint-Etienne. Multiplying exhibition spaces is for us, within the context in which artistic creation develops and spreads nowadays, a matter of showing to best effect the artists we have decided to promote.
Ceysson & Bénétière, Saint-Etienne / Luxembourg / Paris / New York, 23 rue du Renard — 75004 Pari, France