Born in 1974 in Liège. Lives and works in Brussels, Belgium.
Presented by Emilia Genuardi
The Guardians of Sleep (Online)
Artist, researcher and curator, David Weber-Krebs explores various contexts and disciplines as a basis for an experimental process, which questions the traditional relationship between the artwork and its audience. He is currently researching the position and power of the spectator in performances. His stagings often leave room for the uncontrollable, focusing on the reaction of the spectator, who becomes the primary protagonist of his works.
The a ppr oc he sector offers a new form of experimentation in the salon's fifth year, through an online performance by the artist David Weber-Krebs. The Guardians of Sleep (Online) — an adaptation of a piece the artist originally produced in 2017 for theatres - where the performance takes the form of a late night zoom call in which an overstimulation of images leads to a shared sleep experience between the performer and the viewer.
David Weber-Krebs studied at the University of Fribourg (Switzerland) and the Amsterdam School of the Arts (Holland). His recent performances include Balthazar (2015), The Guardians of Sleep (2017), the Immersion (2016) installation at the Weltkulturen Museum, Frankfurt and The Earthly Paradise (2018) installation at the Museum für Neue Kunst, Freiburg. In 2020, David is writing and editing the book And Then the Doors Opened Again, published by Onomatopee (Eindhoven), for which the artist invited 75 authors and artists during the first Covid-19 lockdown to imagine their first return to the theatre.
The Guardians of Sleep (Online), Online performance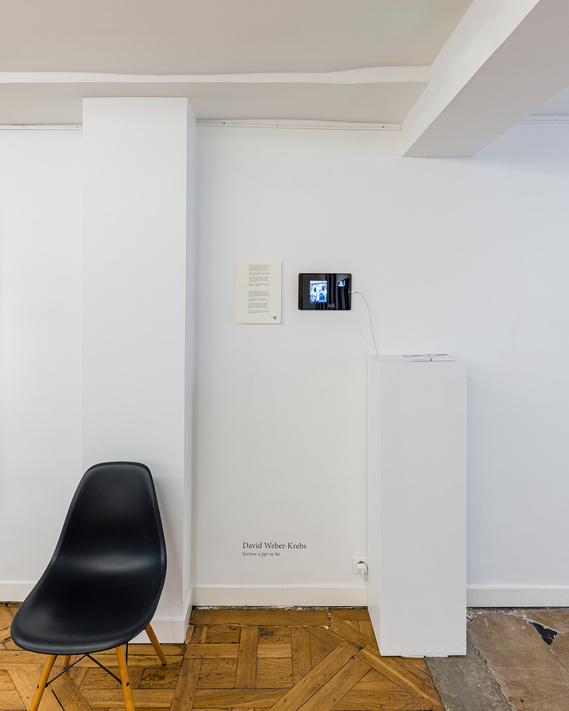 a ppr oc he Sector
As an independent salon, a ppr oc he aims to promote and defend artists with multiple backgrounds. The a ppr oc he sector was created in this context in 2018 in order to open the selection to artists who are not represented by a gallery to date.